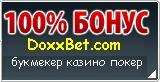 History
The DOXXbet brand belongs to DOXX, a strong capital group active in the entertainment and leisure industry. DOXX entered the bookmaking market in 1994 and boasts the benefit of over a dozen years' experience of running a sportsbook. In the early years, DOXX operated a chain of several hundreds of betting shops across Slovakia. As time passed by and the Internet grew into prominence, DOXX evolved into a modern online bookmaker. In 2007, DOXX gained a licence for international operation and succesfully entered the European market.
The initial impression might be that DOXXbet are a new bookmaker. However, DOXXbet's corporate tradition combined with experience provide security and credibility guarantees to all new and existing customers.
Licence – Gambling Jurisdiction
DOXX BET Ltd is fully licenced bookmaker regulated by law of Malta. DOXX BET Ltd was established on the 18th December 2006 with registration number C-40302 and registered address at Northfield Apartments, Suite 10, Independence Avenue Street, Mosta, MST 9928, Malta. The company has successfully acquired remote gaming licence on the 12th July 2007 (License No LGA/CL2/311/2006).
This way we provide our customers with the most safe, secure and highly regulated betting environment in the world. Being licensed in Malta under some of the strictest world's gambling legislation, means that you can bet in total confidence with us. The regulatory body of remote gaming operations is the Lotteries & Gaming Authority in Malta (LGA).
Website Doxxbet is wholly owned and operated by DOXX Bet Ltd.
Our Mission
Over a period of time, Doxxbet shaped into a professional online bookmaker specialized purely in online betting branch. Thanks to this fact, it can provide the market with attractive fully competitive product. We have always been the product inovator adopting new ideas for your absolute comfort involved in modern operated and designed internet betting platform.
Doxxbet has resolved to create balanced betting product which integrates decisive customers' requirements gathered at one place:
1. rich and diverse odds offer for sports events from all over the world with the main focus on European customer
2. fast updates of product offer - we aspire to be one of the quickest bookmakers in providing odds on the market
3. really fast payouts to our clients
4. excellent customer support
We wil do our utmost to become ultimate destination for your best betting experience.
This way we appreciate any contributions from the customers regarding our website and products, and we will take any suggestions on how to improve our products at a serious level.

Registration on Doxxbet.com